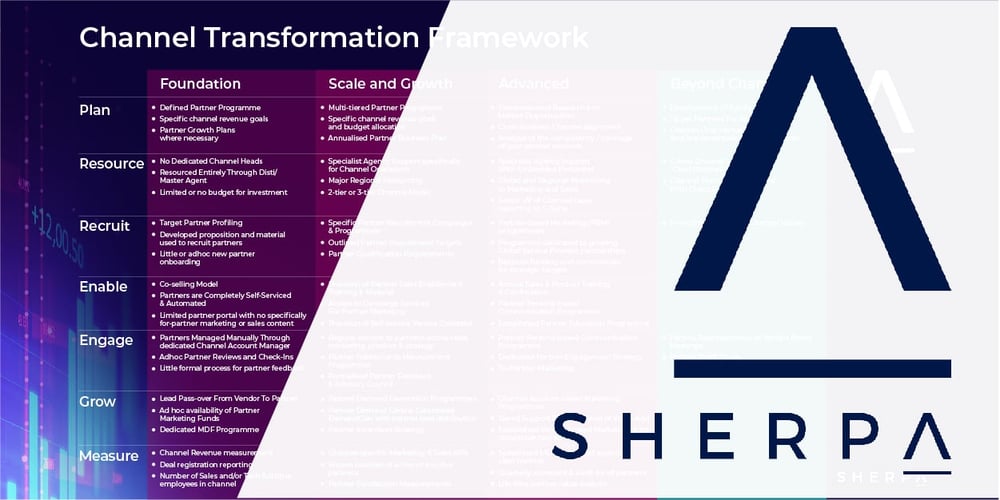 Why understanding your channel maturity is vital to drive long-term growth and value.
In an uncertain economy where every business faces increased pressure to perform, it's time to seize the opportunity inside your Channel – and make sure you're maximising results.

Every organisation wants a Channel that's capable, continually improving and future focussed. But in our work with organisations of every shape and size, we see a significant problem time and time again… a lack of clarity in Channel position and performance leads to paralysis – you can't plan for tomorrow if you don't know where you are today.

So, where do you start? The key to planning for long-term growth is to have a thorough understanding of the current state of your Channel and how you measure up against others in your industry. For that you need the visibility, insight and experience to strip your Channel strategy back to its individual components to develop a clear roadmap for the future – not an easy task for overloaded Channel leaders.

That's why we're proud to launch our new Channel Transformation Framework. Based on years of hands-on Channel experience, insight and expertise, our framework represents an industry first – a straightforward way to rate your Channel maturity, allowing you to understand your current position and make more informed decisions on where to invest time, money and resource to deliver sustainable growth.
Unlock the value from your Channel
Across your Channel operations, growth is both a blessing and a curse. More partners means more potential touchpoints with customers, more people driving sales of your products and, ultimately, stronger performance.

But a growing Channel is exponentially harder to monitor, manage and optimise. Leaders struggle to understand their Channel strengths and weaknesses, where the quick wins lie and what longer-term activities will deliver the most value.

As a result, we routinely see vendors with Channels that are stuck in the middle stages of maturity. It takes quick, easy Channel benchmarking to find out how to overcome that hump and continue your transformation.
Understand today to transform tomorrow
Visibility is vital when it comes to your continued transformation.

Increasingly, strong Channel operations are at the heart of the most competitive, high-performing organisations. A well-developed, expertly managed Channel can be a remarkable tool to deliver huge returns.

However, without an informed strategy for growing your Channel, it's hard to know whether you're truly maximising your resources. It's only by understanding your Channel activity across a number of distinct areas that you can see the investment that you're making, where it's targeted, and what it really delivers.
Getting buy-in for your transformation
We know that visibility over Channel operations needs to improve. We know that stronger intelligence can allow you to achieve more with the same or similar resources. But getting buy-in from across your organisation is a challenge all of its own.

Getting financial and cultural investment for change means presenting a significant, pressing problem and an effective way to resolve it. However, senior leaders tell us that they find it hard to clearly highlight weaknesses in their Channel strategy.

It's the old adage in full force: if it isn't broke, don't fix it. An industry-wide model for Channel transformation makes it easier to show stakeholders what's broken – and what the answer might look like.
Rate your Channel in minutes
The Channel Transformation Framework is designed to be a simple way to see your Channel maturity across seven key areas.
By answering just a few questions, you'll be able to:
Pinpoint your current stage of Channel maturity

Identify which type of partners you require to deliver your numbers

Start creating a strategic map for longer-term investment

See how to do more with similar resources

Get business buy-in for investment in change
Even if you're confident about your Channel, it's a useful way to make sure you're not missing a single opportunity to grow.

---
For more information or to discuss how Sherpa can help you with your channel marketing, please get in touch:
Why not join us at one of our Channel Transformation events and hear how we plan to change the channel once and for all.