Is your marketing technology stack giving you nightmares? Sleep easy with our quick guide to building the perfect beast.
The rise and rise of ABM
Where a few years ago some may have seen Account Based Marketing as a passing trend, it is now firmly established as the latest must have for B2B companies – and for good reason, too.
Results show that in the right situations ABM is the most effective kind of marketing. So effective, in fact, that companies using it generate 200% more revenue than those who don't.
Of course, none of that extra revenue comes easy. ABM can be as complicated as it can be effective. Successful campaigns require deep personalisation, orchestration across multiple accounts and the ability to garner insights form the nuanced conversations and relationships.
Doing this requires some real technological clout; capabilities that go way beyond the common automation platforms most businesses invest in. And here lies the problem…
A one in a million chance
ABM tech is still very much in its infancy. Although that's not to say there isn't an abundance of choice. There are currently around 7,000 different MarTech platforms available on the market – and you can expect to see a further two thousand or so added in the next couple of years. The problem is, very few of them play nicely together.
Ask anyone tasked with building a MarTech stack and they'll tell you that integration can be a major spanner in the works. Yet despite this, some businesses use as many as 50 different platforms, presumably holding out hope for a one in a million chance it will all come together.
Predictably, the most common outcome is the dreaded "Frankenstack" – a hastily stitched together assortment of platforms that doesn't perform as its creator intended, and often provides more problems than solutions.
The result? Only 3% of marketers believe they get full value from their tools.
5 ways to tame the beast
Picking between thousands of solutions and trying to identify the ones that will work together isn't the job of a marketer. It's the job of an IT expert, and a difficult one at that.
Still, the ABM opportunity awaits, and if you can get this right there are huge gains to be had.
Imagine if you could build a technology stack that was less monster and more hybrid. A stack that combines the best elements of all your separate technologies with devastating effect.
Here are five tips to help you on your way.
1. Seek expert advice
For many larger organisations the solution to not having the right skills is to buy them in. That's why we've seen a rise in the role of the marketing technology specialist in recent years.
Clearly not every company can afford to create a role specifically to solve this problem, though. But the good news is, they don't have to. With the right agency partner any organisation can access the expertise they need, as and when they need it, for a much lower cost than a full-time hire.
A decent agency partner will have a wealth of knowledge about the latest MarTech solutions, which ones work together and how you should approach your technology challenges for the most effective results.
2. Know what to ask your technology provider
Knowing the right questions to ask your MarTech provider is integral to narrowing down your choices. And with thousands of solutions out there, you need to narrow them down.
Start by putting together a list of things you need to know. Questions like, 'will this solution work with our existing software?' and 'do we have the resources needed to properly run and manage it?' are a great starting point.
3. Run pilot projects where you can
The problem with MarTech investments is that the short-term benefits can be hard to see. For that reason, many providers won't run pre-purchase trials.
Negotiating over this, and knowing what benefits to look for in the short term, can be really important in finding the right solution.
However, if you can't negotiate a trial, running pilot projects with a marketing agency partner can be an even more valuable option.
Remember, a good partner will know the latest tech inside-out, and they've already made the technology investments – so you don't have to. You can simply run your pilots on their platforms and then take their advice on what you should do next.
4. Assess your capabilities
Choosing the right solutions isn't the only challenge in building a MarTech stack. You also need to make sure you can successfully run, manage and maintain it.
It's important to be honest about your capabilities here and decide what's best for your business. Should you run your stack yourself, or outsource the responsibility to an agency? Maybe you just want to outsource the most complex parts of it? Or maybe there are some things you have to keep in house?
A good agency will give you options to fully or partially outsource your marketing endeavours, so you can find a solution that suits you down to the ground.
5. Don't run screaming into the night
Relax. Your Frankenstack isn't alive – just yet.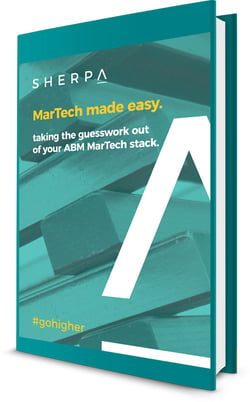 Building a marketing stack can be scary, but it really doesn't have to be. To help you turn the stuff of nightmares into the technology of your dreams, we've compiled some of our best advice in our eBook, MarTech Made Easy.
Download your copy to see all the questions you should be asking your MarTech vendors, learn the full advantages of using a marketing technology partner and discover the key considerations for any company investing in the latest technology.
---
If you would like to discuss how Sherpa can transform your MarTech for exceptional ABM, please get in touch…