If you have been anywhere near twitter over the past few days you will see that #ALevelResults2019 is dominating the UK Trends. As hundreds of thousands of students across the United Kingdom opened the envelopes which many see as a magic eight ball into their future successes, a new revolution of social support for the lesser achievers seems to be rising.
Following a full examination reform, the grades achieved this summer are showing a slight downward trend from previous years, with the percentage of students receiving top grades at its lowest number since 2007. There is expected to be a record number of university places secured through clearing, and for the first time in three years, girls have outperformed boys at top grades (however, why gender achievement is still segregated and compared is beyond me). However, as the news cameras roll and excited teenagers open their 4 A* results live on Good Morning Britain, there are others who may have worked really hard and still not achieved their required grades…so what now?
Well, as we marketeers know, there is never one single route to get to your required destination. There may be obstacles and your planned route may not be the best one, but there are still ways of achieving your desired outcome. When running marketing campaigns results are important. Crucial even. But this is because they affect how you respond going forward. Results do not define a person, or campaign; they are an additional point of learning and form the building block of how you respond going forward. This is why we monitor metrics throughout a campaign, not just at the end…so we can learn from them and optimise our activity going forward. A Level results do not define you, some people learn differently to others and respond better to certain examination processes…it doesn't mean they will not achieve going forward. It is therefore about finding another way of achieving the desired end goal or even re-evaluating and identifying a better opportunity.
I didn't get the greatest A-Level results…they were ok, but I certainly wouldn't have been opening them on a morning breakfast show. I didn't get in to my first choice of university and I am forever grateful of that, as the path I took changed my life and brought me to where I am today. At the time it seemed like the end of the world, but at 18 everything seems like the end of the world – perspective comes later. Many companies and professions, when recruiting, may specify a criteria when it comes to exam results but quite often this is just a way of reducing the number of applicants. Some of the best marketeers I've worked with aren't straight A students, but in fact, base their success and knowledge on their experience and attitude. If you can get your foot in the door and have the right attitude then many companies will give you a shot.
At Sherpa, we employ based on several criteria, and previous experience is just one of these. We are more interested in you as a person and your personal qualities, the rest can be taught. Nobody is born a great marketeer, the skills are learnt and developed over time. At risk of repeating myself, our culture is important to us and I've written a few times about the strength of Sherpa being in our people - we are 'A' players and always bring our A game – this is reflected in our recruitment policy. We will always give people a chance and will always welcome the best person for job, whether they achieved 4 A*s or don't have an A-Level to their name.
In fact, we have seven values at Sherpa, which we live by…we are technology experts -we stay where we are awesome, our team is made up of 'A' players only, we are dedicated to growth – our own and our clients, we are always learning and not afraid to make mistakes, we are honest and open and when you work with Sherpa you will not be blinded by sales jargon and hyperbole…with us there is no fluffy shit. We live and breathe these seven qualities.
So, for all of the students who are suddenly feeling slightly lost and in need of rerouting…borrow some of our values; be honest and open, become an A player, continue to learn, don't be afraid to make mistakes and focus on your own growth. Then who knows, maybe the unplanned route that you have found yourself upon, will turn out to be more fruitful and successful than the original. Out of every failed opportunity comes a different opportunity, so maybe this is yours.
---
If you would like to discuss how Sherpa can transform your marketing, please get in touch…
---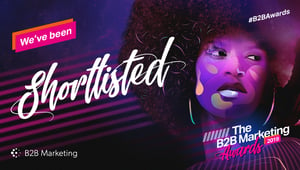 Sherpa have recently been shortlisted for a B2B Marketing Award for Best Channel Marketing Initiative, and do you know what they labelled us? Trailblazers…Whatdya know?! How's that for serendipity!)