I could write pages and pages about how unprecedented these times are, but we have all read a thousand blogs and pieces of content focused on this. What more is there to say, that hasn't been said before?
Sadly many companies are feeling the brunt of the new world we are currently living in and although many with cloud based service packages and remote working products may be busier than ever, some may be feeling stunted as fewer companies invest in their systems during this precarious time. And for many, their marketing capacity is the first expenditure that is on the line, and often cut. Why bother marketing when nobody is buying and everything currently seems so futile?
Well the demand is still there; it is just currently on ice. But this will not last forever. Offices are now reopening in China and when that time comes for us, we have left our domestic prisons and some sort of normality resumes, this pent up demand will need a supply. Tech Vendors need to be agile and ready to go; and those that are first off the mark will be the ones to reap the most success.
Now is the time to get your house in order...
...and focus your efforts on efficiency and strategy, so when the time comes, you are able to service your bounce back. Spend this time reviewing your marketing operations, clean and append your data, audit and build out your content to fill any gaps you may have and create a watertight strategy for agility and growth.
For Channel Vendors, once this is over, you will need your Channel more than ever. It is therefore imperative that you carry out a full audit and ensure you have full visibility of every aspect that makes up your Channel. But where to start?
We have created a Channel Transformation Framework which outlines the many aspects which make up a mature channel against seven key areas. This creates that element of visibility. You can then use our free, no obligation Channel assessment, which allows you to select which of the aspects currently make up your Channel, and then you can see how your Channel compares to industry average. We will also send you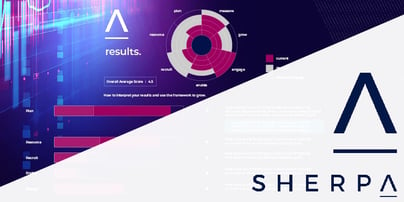 a report that suggests which areas on which you may need to focus to optimise output and create scale. There is no obligation to do anything with your results, but if you are looking to identify gaps in your Channel and create opportunities for optimisation and growth, this tool will be invaluable. You will be offered the opportunity to discuss your results with one of our Channel experts, to make sure you get everything you need from your report to build the best and most profitable Channel going forward.
So, use this time wisely. Be proactive. Do that marketing spring clean and if you need advice, please call us. We are an agile agency and much of the work we do is digital, so are geared up and ready to go as normal. And more importantly, we are happy to help, so please, just give us a call. We're in this together.
---
For more information or to discuss how Sherpa can help you during this time, please get in touch: