In the ever-evolving landscape of Partnership Ecosystems, gaining a competitive edge demands data-driven insights and innovative solutions. Enter EdisonAI, the world's first AI-powered assessment and predictive modeling platform, poised to revolutionize Partnership performance.
EdisonAI is your gateway to a global view of your Partner Ecosystem. With data-driven analysis, this platform empowers partner teams to visualize, evaluate, and measure their ecosystem beyond simple revenue metrics. Here's what EdisonAI can do for you:
Create a Global View: Visualize your partner ecosystem and group partners based on performance and potential.
Signal Insights: Identify key partner relationship attributes driving success.
Partner Insights: Turn data into action and support individual partners effectively.
Understand Share of Partner Wallet: Quantify potential revenue and optimize Partner account plans.
MDF Allocation: Allocate resources strategically based on data and potential.
The Partner Scorecard: Plan with your Partners based on data, ensuring growth and success.
Want to see how we identified growth opportunities?
Join us for a free webinar, "The Lightbulb Moment: How EdisonAI shines light on Partnership Ecosystems," led by industry expert Tom Perry, CEO of the Sherpa Group, a global Partnership Marketing Agency.
This event promises to deliver unparalleled insights into Partnership potential, and it's your chance to discover the $70 million growth opportunities hidden within your Partnership Ecosystem.
Event details
Date: Thursday, October 12th
Time: 16:00 GMT
Host: Tom Perry, CEO of the Sherpa Group
Registration: Online here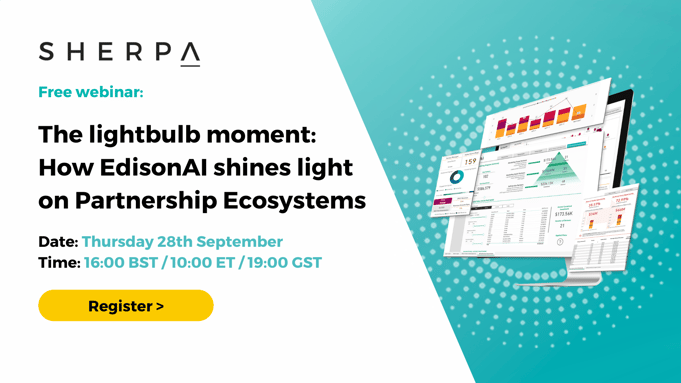 Key statistics and insights
At the heart of this webinar lies a compelling statistic: "The average $ growth opportunity for users is $70 million a year." This staggering figure underscores the immense potential waiting to be harnessed within your Partner Ecosystem. But how can you unlock these opportunities? Join us as we delve into the strategies and tools that can lead you to drive more revenue.
Who should attend
This webinar is essential for Partnership professionals from any vendor, GSI, TSD, or VAR seeking to understand how data and artificial intelligence can shine a light on Partnership Ecosystems. Whether you're looking to maximize revenue, optimize investments, or discover untapped potential, this event is tailor-made for you.
Quotes from industry leaders
Don't just take our word for it. Here's what Kerstin Demko, VP of Marketing at Brivo, had to say about EdisonAI:
"EdisonAI delivered data visualizations so we could quickly understand a vast amount of in-depth information about our Partner Ecosystem. We have a great set of Partners: the assessment helps us understand our Partners' potential and where we need to spend our resources. The tool also enabled us to create a successful Partner profile so we can go and find more Partners like them.
We have also used this tool to identify who's missing in our Partner Ecosystem. The process has been valuable to us, and we now want to do the same in EMEA."
Conclusion
In the digital age, partnerships hold the key to unprecedented growth, and EdisonAI is your compass. Join us on Thursday, October 12th at 16:00 GMT for an enlightening webinar that will reshape your partnership strategy. The $70 million lightbulb moment is here, and it's time to illuminate your path to success.
Register now and embark on a transformative journey with EdisonAI. Don't miss out on this opportunity to unlock the hidden potential within your partnership ecosystem.