Our recent Future of Channel webinar, chaired by Canalys' Chief Analyst, Jay McBain, saw our panel of experts take a deep dive into what they believe to be on the horizon within the Channel. If you haven't seen it, you can watch the on-demand version by clicking here, or read our key takeaways below.
Our Panellists

Barb Huelskamp, Senior VP of Global Partners and Alliances at Alteryx

Chris Samila, VP of Partnerships at Crossbeam

Tom Perry, CEO at The Sherpa Group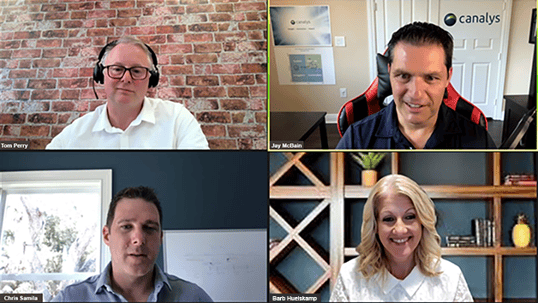 Jay McBain opened the session talking about these great decades of change. Quoting Bill Gates, "We over-estimate what's going to happen in 2 years, and underestimate what's going to happen in 10".
Our context right now is that we are at the tail-end of the pandemic with a macro environment which is challenging. And we are seeing some long-term changes where Vendors, Distributors and Partners are going through major transformations; over 70% of Vendors are moving to subscription models, there has been an explosion of marketplaces – and we are seeing changes in terms of the psychology of buyers.
"We are right now starting the decade of ecosystems."
PEOPLE OF THE FUTURE
There was a lot of discussion around the skills people need to support the Future Of Channel. The roles within Channel used to be around driving sales and sales only – but that is changing. Channel roles also need to drive alliance relationships, influencers – and so many more.
Barb Huelskamp talks about the role required by boots on the ground Channel management. This role is not an overlay anymore – this role is about being a business owner and building partnerships within connected technology environments – not just Vendors' own technology. Channel management needs to understand and support Partners in how to connect the technology into their practice areas and drive more than just licence revenue.
Chris Samila talks about two key roles emerging in the space: Partner Operations to support more programmatic approaches and solution architects to enable the requirement to bring connected technologies together, reflecting Barb's view.
Tom Perry brought in the topic of upskilling and the gap between the activities required by Channel and the skills to make them happen – there tends to be a technology and program first and then people and service to achieve them after approach, which creates a value lag.
Barb Huelskamp also mentioned how we bring forward an agenda for equity and diversity – and supporting Partners in hiring for underrepresented and more diverse workforces. Jay McBain, ever the analyst, mentioned that a new role, Ecosystems Chief, is held 50% by women – compared to a Channel chief list which has 17% female representation. So, perhaps the Future Of Channel has more opportunity to be equitable.
TECHNOLOGY OF THE FUTURE
With many of the decades of change – tech is a key element in driving and sustaining these transformations. There are, today 223 companies in the Channel technology stack – and all these technologies adding to the picture and orchestration of the Channel. Jay McBain asked the panel about their views on how technology is supporting a multi-lane ecosystem.
Barb Huelskamp's view came from the point of Alteryx – where disparate sources of data is their business. She talked about how access to data in order to drive smarter decisions and outcomes, alongside upskilling teams as key importance. The Vendor must have the technology to orchestrate across a disparate system of Partners.
Chris Samila's view centered around the flux of skills and processes needed – and the technology which needs to become known to support these different Partners. He noted examples of ex-SaaS Partners creating additional technology plays to help Partners in a connected environment and mentioned the role that collaboration technology could have in the space in the future: PartnerTech which operates over Teams or Slack, for example. These environments which are not just about collaboration, but workflows, project management and information retrieval.
Tom Perry summarized the section, mentioning the speed at which services are having to run to keep up with the rapid developments – services which are key to not just implementing the technology but adoption too.
PROGRAMS OF THE FUTURE
A traditional Channel program may have 100 different elements, from recruitment, incentives, onboarding – Jay McBain poses the question to the panel of how to make that work. How to make it work when 80% of the Partners which are coming into the space are non-transactional, and so you can't anchor the program around a sale. How do you recruit, enable and reward a non-transactional Partner.
Barb Huelsksamp's view was around being agile to the changing nature of Partners. Recognising where value is being added, rather than changing the Partner's go-to-market. Alteryx are recognising that every Partner type has a different value and you have to provide value to them early – as revenue tends to be a lagging metric of connected Channel success.
Jay McBain commented around not pigeonholing Partners in the program – and a program needs to be open to the role that any Partner is playing at any one time and support them on that. In one deal, a Partner might influence, in another deal – they may be leading the sale or implementing and servicing a client already established.
Chris Samila brought up the point that programs not only need to be different in their construction – but also different in how you attribute value creation. If Partnership teams are reporting into sales – sales are the only way success will be rewarded – and they will be unrecognized for the part played in customer success, for example.
Tom Perry wanted to raise the regional differences we see in programs – the focus on creating demand in Channel shifting to other areas such as loyalty, renewal, incentives – being driven by the maturity of the market.
Jay McBain closed on Microsoft's new points system – recognising lots of different areas of Partner value at the point of value, not just sales.
And perhaps, Jay McBain commented, that this points system might be a system for the future. To demonstrate the importance and impact of Partners and the diverse roles they play and diverse ways they need to be supported and also quantify to the Partners the value they deliver.
THE FUTURE OF CHANNEL IS CLOSE
The Future of Channel is closer than we think and if you haven't watched our Future of Channel webinar yet, then we can't recommend it enough. You can access the on-demand recording here.
If you'd like to discuss how you can gear up for the upcoming shifts and stay ahead of your competition, then our team of experts are on hand, so please don't hesitate to book a call with us.