2021 has been the year that Partner Experience (PX) has lept to the forefront of channel strategy and operations. We have been speaking with global vendors all year who understand the advent of marketplaces, the emergence of different Partner types and the need for better Partner interaction has put a very strong focus on improving PX.
But how do you build a compelling experience for Partners, one that goes way beyond the traditional cyclical initiatives that have permeated channel management for the past 30 years?
---
As our PX Webinar Series steams ahead, we have arrived at the penultimate in our series of digital events. Sherpa's CEO Tom Perry leads the discussion and is joined by panellists Roelof Holwerda (Dell's Global Director for Partner Demand Generation) and Sugata Sanyal (Zinfi Technologies' Founder and CEO).
In this masterclass webinar, our panel discusses how to optimise Partner Experience (PX) to achieve your channel goals. Thank you to those who joined us at the webinar, and to those who couldn't make it or need a recap, here's a recording of the webinar and our key takeaways from the event:
Digital Transformation - How Can We Prepare Partners For The New SaaS Model Of The Channel?
Digital transformation is happening all around us, and both the channel and the Software-as-a-Service (SaaS) subscription-based tech that Vendors are selling have changed drastically. In fact - as Channel Analysis Expert Jay McBain discovered - 76% of global CEOs feel that their current business models will be unrecognisable in the next 5 years. We are right in the middle of this channel tech evolution.
A leading SaaS channel model can support digital transformation goals, but how do we prepare our Partners for this ongoing evolution in the channel?
Be communicative with your Partners, help them understand why this shift is happening, and how SaaS in the channel will help them. From conserving IT infrastructure to adapting to customer market demands, to driving customer success, SaaS allows Partners to almost effortlessly deliver a better tech experience and build a satisfied customer base. But those partners need to be equipped for different transaction models and enabled to change their own businesses accordingly.
Ultimately, it all comes down to ensuring that we equip Partners with the correct tools and knowledge... knowledgeable Partners are happy Partners!
Compelling Partner Experience (PX) Is A Key Driver For Growth
Great Customer Experience (CX) requires great Partner Experience (PX), and in today's climate, ensuring PX is crucial to meeting your channel marketing goals. We've discussed in previous content what PX is and why it's an important factor to your channel marketing strategy and our first PX Series Webinar focused on PX in the context of Partner recruitment, but how can tech brands achieve it across their wider channel strategy?
Tom kickstarts the discussion by outlining the five pillars that Vendors should fulfil to ensure their Partners' satisfaction, and the webinar goes on to analyse Planning and Demand Creation Rigour and The Channel Technology Stack in more depth alongside the panel.
Five Pillars to Achieving a Compelling Partner Experience:
Planning and Demand Creation Rigour - Work with your Partners to develop a baked-in, mutually beneficial process that is clear and concise.
MDF, Lead & Deal Clarity - Understand that there are different types of Partners and be flexible towards their requirements and goals.
Incentives - Co & Individual - Incentivise Partners through the channel, and ensure beneficial outcomes for Partners regardless of their size, as well as individual team members. A blend of both is current best practice.
Enablement - Equip and prepare our Partners with the correct tools and knowledge that they need to market your products.
Channel Tech Stack - Ensure that you are supportive of your Partners efforts with tech. Sugata goes on to cover this one nicely - so we'll leave this one to him!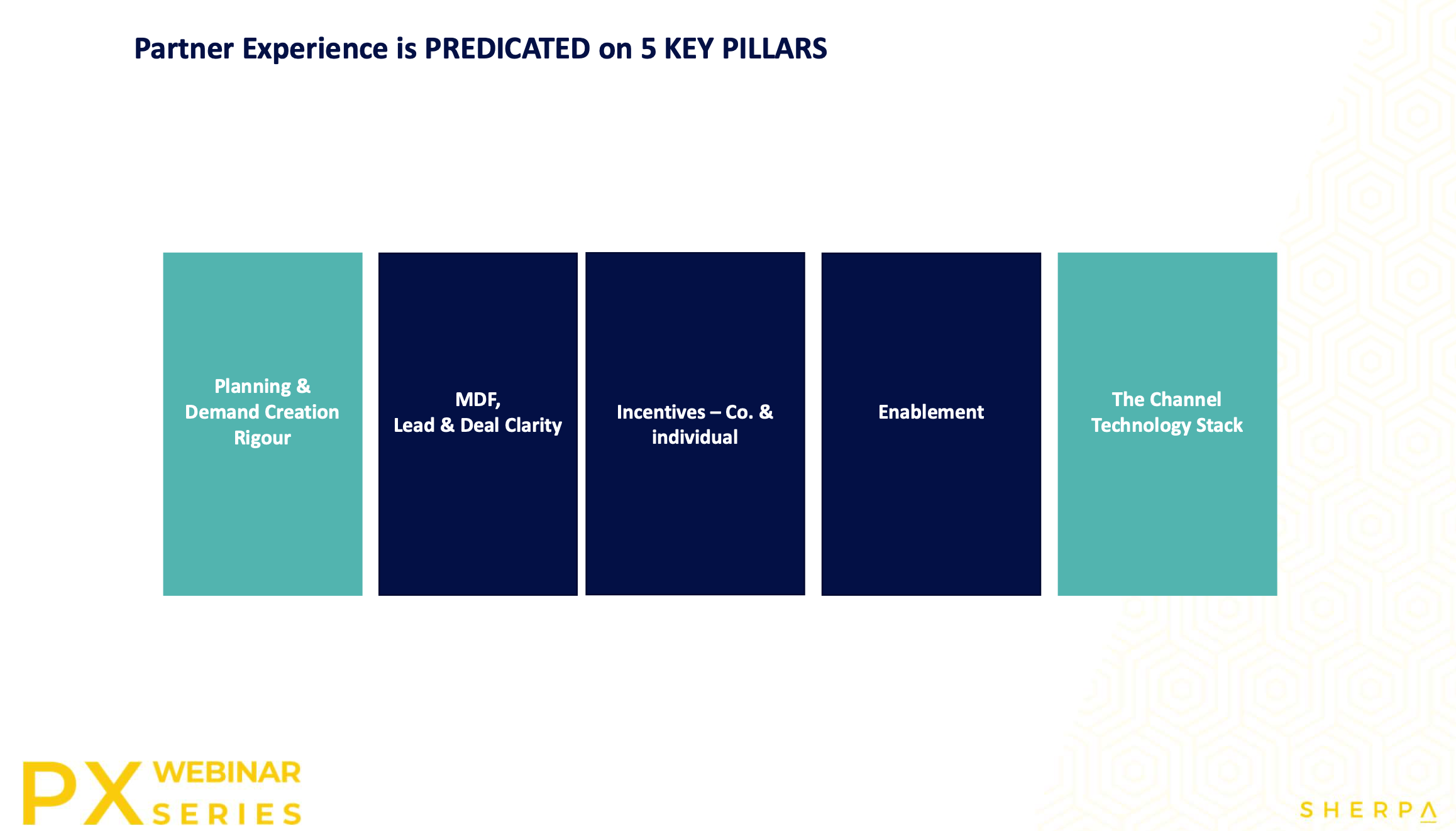 We've discussed in a previous blog how to recruit channel Partners and the 6 steps to success. Ensuring that you are a good Vendor to both new and existing Partners is crucial to channel success.
Planning and Demand Creation Rigour
It was fantastic to also be joined by Roelof Holwerd, who gave an insightful discussion on Dell's recent changes to their partner programme, and an exclusive insight into how Dell tackle planning and demand creation rigour.
As a specialist channel marketing tech agency, at Sherpa we have seen many trends expose themselves so far in 2021, however one which we are seeing ever-increasingly is a big demand from Partners for better quality leads, and more of them!
Roelof sheds light on this change, and explains how Dell overcame this shift despite the world drastically changing during the events of 2020. Pre-pandemic, Dell channel Partners traditionally relied on events-based marketing to drive lead generation. Suddenly, this drive for leads using marketing tools such as banners and invitation sweets was not needed anymore. The world changed and events had to occur digitally. This led to a shift for Dell Partners, who had to adapt to sell digitally.
During this adaptation process, Roelof noticed a significant social change during the lead generation process. Events used to be filled with industry-related chat about hardware and the cloud, but things were now different. Partners were selling to customers who wanted to talk about the issues important to them, mental health and the realities of work from home, and Partners who could best discuss and relate to these topics out-performed the rest.
In today's realities, digital marketing has become imperative to the lead generation of many channels across the world. Scaling lead generation to connect with customers now needs to be a personal, humanistic approach. Are you supporting your Partners through this digital shift?
The Importance Of The Tech Stack In The PX Equation
It was great to be joined by Zinfi Founder and channel automation expert Sugata, and listen to his take on the importance of the tech stack when it comes to PX.
Sugata begins by explaining the importance of supporting Partners in all things tech. As a Vendor, you need to be sure to bring Partners along with you on your digital journey. When your Partners become digitally involved in your portal, watch over your channel community closely and ensure that no one gets lost.
Use the channel as an opportunity to educate your Partners! Should your Partners need any technical support in your portal, Vendors should be prepared to help. Ultimately, Partners have engaged with your service to make profitable revenue. Time is money, and if your processes or tech is too complex, and Partners are spending too much time working it out or getting help then they won't stick around.
You should be thinking, what processes could I put in place to help my Partners digitally? Automation is a great example of digital transformation - the adoption of digital technologies to optimize the way that businesses manage their day-to-day operations - and can help you refine your process and resources. By aligning your process and resources, you will ensure that your highest-performing partners are getting the most support, and by supporting these Partners more, they will sell more.
Key Areas
Ultimately, if you are going to improve PX then there are a number of key areas to focus on, in tandem. Technology use, programme innovation, renewed demand gen tactics as well as a focus on supporting SaaS adoption are key.
We hope that by bringing subject matter experts in all three areas, our PX Webinar Series and accompanying blogs have been useful viewing and reading.
So there we have it - there's a whistle-stop tour of our latest webinar! Thanks again to our fantastic speakers Roelof Holwerd and Sugata Sanyal for joining us and for their insightful responses. We'll see you next time for the final instalment of our PX Webinar Series!
---------------------------------------------------------------
For more information or to discuss how Sherpa can help you, please get in touch: