We recently held a virtual Channel Chat with a selection of tech Vendors on the topic of Partner recruitment, to share professional opinions and best practices. As a thank you to everyone who took part and also to share the valuable takeaways, we have neatly packaged these insights with our expertise in Partner recruitment to define six core steps that Vendors should take for recruitment strategy success.
---
Partner recruitment, as our CEO identified back in January, continues to be a hot topic. Our recent poll reveals that 80% of Vendor respondents are looking to get between up to half of their 2021 channel revenue from new Partners. Pretty significant right?
---Keep Scrolling to Continue Reading---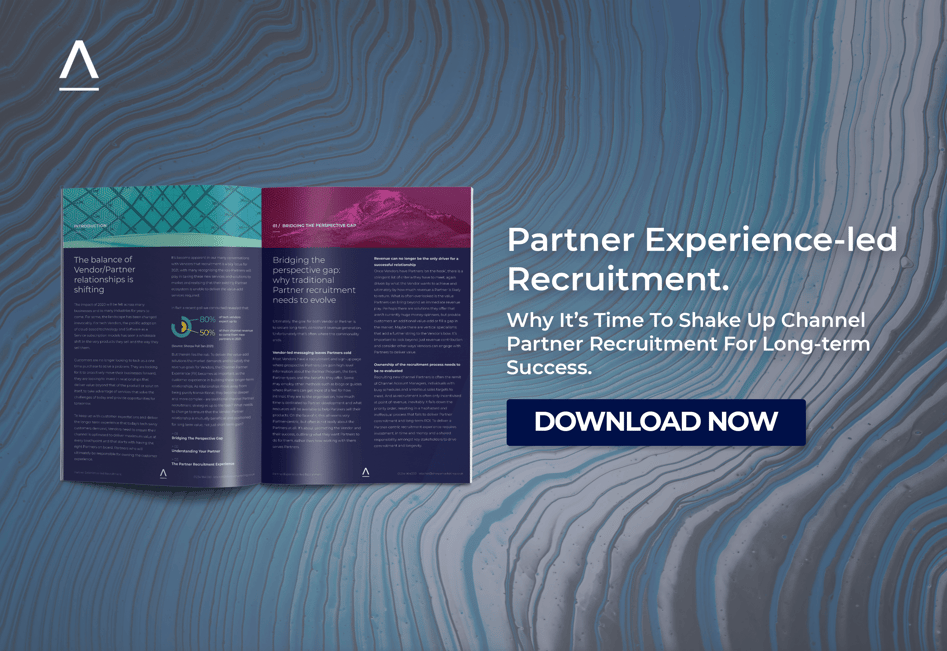 We know that the volatility we saw in the market in 2020 has meant that channel has seen a substantial shift and a big part of that is Vendors making sure that they have the right channel model and the right Partners on board to take their business forward through 2021 and beyond. So, without further ado, let's dive into the six core steps to achieve success with channel Partner recruitment.
How to Recruit Channel Partners
Establish the business case
Evaluate existing Partners
Build ideal Partner profiles
Partner attraction focus
Discovery phase
Onboard and enable


1. Establish The Business Case
Recruitment is a key part of the overall Partner experience (PX) and one of the first steps towards increased revenue through successful channel partnerships. The channel Partner recruitment process should be focused on alignment – so before you get started, you need to know exactly what kind of Partner you want and how you want them to contribute to your portfolio and growth plans, to establish the business case.
A key objective of the business case is to ensure you avoid the 'long-tail'. Namely, those Partners who are no longer (or perhaps never were) proactive or positively impacting channel objectives.
👉 Related [Channel Insights] Why Channel Partner Recruitment is a Key Focus for Tech Vendors in 2021
2. Evaluate Existing Partners
Before you invest in recruitment, it's so important to evaluate your existing Partners to understand the value and gaps in your channel in order to make better decisions. This process begins by addressing Partner capabilities in fulfilling your objectives and results in the identification of gaps or 'white space' across key areas including business, skills and attitude.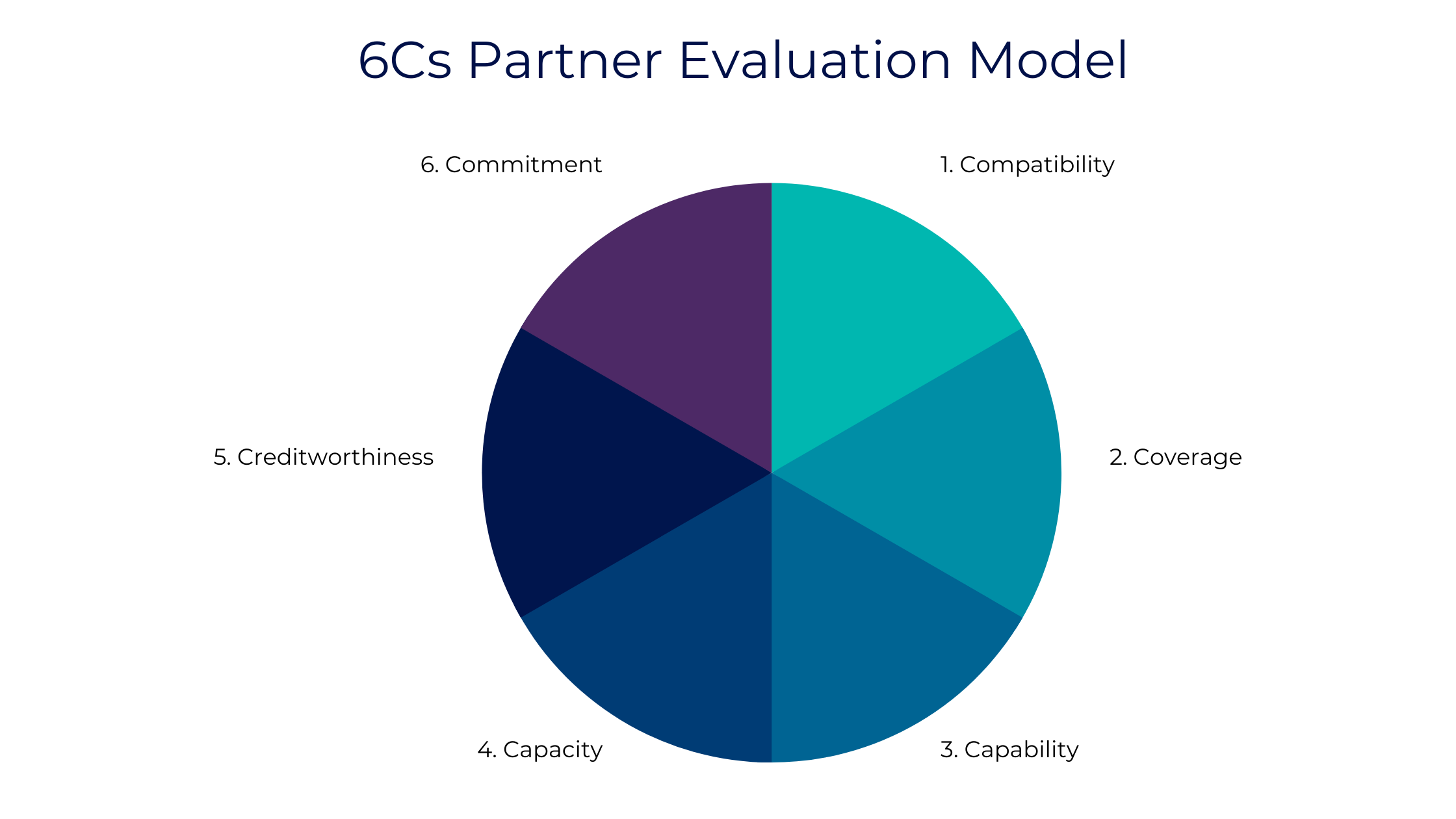 We recommend the 6Cs Partner Evaluation Model here as a tool to support this process. It helps you to assess existing (and new) Partners against six core attributes of:
Compatibility - business model, vision, goals and culture is in sync with requirements
Coverage - access to targeted buyers in markets where coverage is required
Capability - review the extent of knowledge, skills, experience, processes and tools required
Capacity - ability to achieve targeted short and long-term revenue targets
Creditworthiness - long-term business viability of partner and the level of capability to invest
Commitment - level to which the partner is dedicated to making the partnership a success
3. Build Ideal Partner Profiles
Once you've established what your existing Partners are bringing to the partnership and what you hope to gain from new ones, you can build your ideal new partner profile, or set of profiles for each Partner type; the 6Cs model can be leveraged here.
You should treat this stage as a collaborative effort. Just like the creation of educational, revenue-impacting content should not be the preserve of the marketing department, the process of building Partner profiles worth their salt requires input from cross-departmental teams, especially channel managers and regional account teams.

In fact, channel account managers should be front and centre of this process and in many cases, should lead it. You want to brainstorm questions like, 'What does your ideal Partner look like?' and 'What do they bring to the table that you're currently lacking?' This might be a particular set of skills and competencies, a verticalised or software specialism, coverage of a certain geographic area, or close alignment with a go-to-market (GTM) strategy.
4. Partner Attraction Focus
Once you have your ideal Partner profiles you can set about creating a target list of Partners that look like they could be a good fit for your programme. With your well-considered short-list in hand, it's time to plan out the marketing tactics you'll need to attract this group of prospects, paying particular attention to communicating the value of your Partner ecosystem to start securing those all-important, quality leads.
5. Discovery Phase
When a potential new Partner shows interest in your recruitment activities, it is imperative that a structured and well thought out discovery process is managed by the Vendor. There is no substitute for that first conversation with a prospective Partner; data crunching can only take you so far and there's no metric for motivation. You need to find out what their role is, what their commission structure is like, what their goals are.
There may be numerous reasons why a Partner is considering taking on new tech; understanding these reasons is the key to a mutually beneficial relationship. It will also guide plans around support required, enablement and ultimately the investments made by both parties.
Honesty is key to avoid wasting time and resources on recruiting Partners who will never be motivated to sell for you. If you want to displace an incumbent Vendor, make sure this is understood. Have open conversations with prospects and find out what they're looking for in a partnership. The prospective Partner needs to understand what value they will get from a new relationship so that they know it's worth investing their time; for it to be successful, the relationship must offer mutual benefits and this must be clear from the outset.
Ultimately, Partners are people and you need to be able to read between the lines to know whether they'll be a good fit and be motivated to sell your products and solutions.
6. Onboard and Enable
Once you've recruited a new Partner, the work doesn't stop there. Partner success relies on effective onboarding to grow new relationships and build that all-important trust, which ultimately drives ROI.
A good place to start is to create a 30/60/90 day Partner onboarding plan. Sales teams are instrumental here - indeed a dedicated 'enablement team' made up of key players is preferable - not only in the planning, but in making sure Partners have the right training and understand the value proposition, are equipped with the right sales tools, can talk strategically to their prospects, and can participate in strategic account planning and quarterly business reviews. All of this not only instils accountability in your sales team but also builds trust with the Partners and provides evidence of the value proposition. If you neglect this part of the journey, you could be recruiting Partners now who, a year down the line, still haven't logged onto the Partner portal.

Focus on recruiting Partners who fit your ecosystem and then onboard, train and enable them to work effectively within it. It's easy to recruit lots of Partners without qualifying them, but successful recruitment doesn't stop at sign-up. It's what happens next that makes the difference to the bottom line. You're looking for Partners who will drive repeated revenue, not one-off deals.
Final Note
As you should be able to deduce, there is no secret sauce to successful channel Partner recruitment; it's all about planning, evaluation, collaboration, enabling and establishing processes, accountability and ownership. Ultimately, it's an extension of your Partner experience. Vanity metrics like number of Partners might look good on paper, but delve beneath the surface and they might not be driving revenue. For true success in channel Partner recruitment and to avoid the long-tail, you need to be focusing on 'who' not 'how many'.

It's also essential to view Partner recruitment as a continuous process rather than a one-off activity, particularly in established markets. The market is ever-changing and evolving, and you should always have one eye on the make-up of your channel to ensure it is keeping pace with these changes and meeting market needs.
---------------------------------------------------------------
For more information or to discuss how Sherpa can help you, please get in touch: